We ease your financial operations saving costs for your company

Receive and make payments, perform international transactions and offer better pay conditions to your employees while saving costs
Safe pay
against COVID
Our own safe pay system prevents any contact with cash or POS. Protecti yourself against COVID!

Receive payments in your commerce regardless of the amount, without any fixed fee: only 2% commission on the value of goods or services.

We will add your business data to our A.pp so that customers can find you easily


Savings for the company
and wage improvement for your employees
Save in social security contributions for your company and reduce Personal Income Tax payments increasing your workers' salary.

Retain your talent motivating your employees without any extra expenses for your business.

Manage employees' remunerations easily and safely through our App.


Davies

VISA card

(Coming soon)
With your Davies VISA card you'll have significant tax savings for your company expenses.

The company can load each and every card needed for their own expenses instantly and in a safe way.

The reload limit is set by the company itself and there's no deadline to spend any remaining amount.


Davies

App
Speed up daily operations in your company easily and safely through our app.

Available in all operating systems: iOS and Android, or at our website.

We have our own API for your company to offer our services to your customers.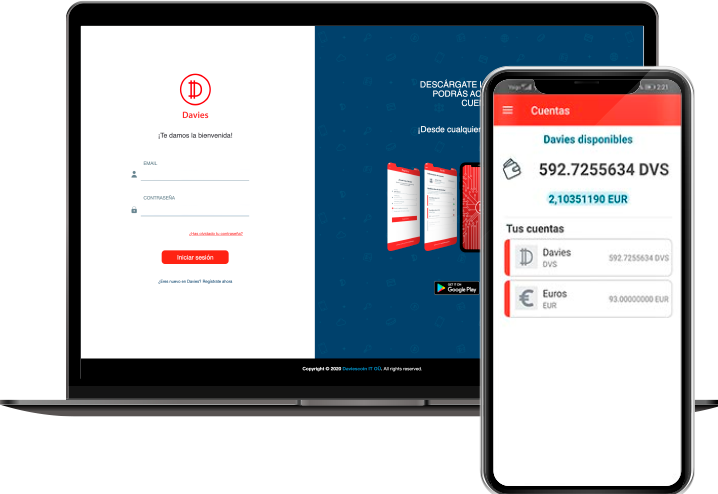 Which other operations can I perform with
Davies
?
Repatriation of capital

Due to commissions reduction and instant delivery, we save costs to any business that has offices abroad and needs to move its own funds without losing profit
more info

Double savings in company expenses

Buying Davies your company will have double tax savings: first, buying Davies assets, and second, spending with the card.
I want to save
Store of value
When a transaction is received, there are two possibilities: exchanging the money into euros or storing it in Davies until the price rises and more value can be obtained.
I want to invest

Incentives in advancement for employees
The Davies automatized loan system will let you offer one-off commission advancements in your workers' payroll.
I want to know how

Our goal
To help any company by improving safely and easily the current conditions banks are offering.
Our philosophy
To decentralize the current paradigm of large corporations who only think about becoming richer without supplying any further value to those who make it all work: the users.
Our team
Several multidisciplinary experts belong to our staff. We also work with many companies from all around the world specialized in software development, marketing, branding and communication.