A new safe paying system that adjusts the commission to the cost of your service or product
Increase your earnings reducing commissions charged by banks
Using Davies as a payment means in your physical store you can:
Reduce commissions by not using banks.
Get more local prominence due to being listed in our app.
Generate income for every loyal user in your business.
Reduce the risk of spreading COVID-19.
Why using
Davies

as a means of payment for physical businesses
Reduced payments have never been so cost-effective
Get payments in your business, regardless of the amount, without fixed fees and a 2% commission of the product or service value.
Easy and 100% safe payment
Thanks to a cryptographic system, the money will be deposited in your euro wallet and you'll be able to withdraw it whenever you want.
More prominence for your business
We will upload your business data to our App so that you can be found more easily.
Get income recommending
Davies
Through our referral program, you can generate extra income when recommending Davies.
Adapted to
"new normal"
Reduce risks against COVID-19 by introducing contactless payment not even between selling and charging devices.
No extra costs, only benefits
Taking advantage of this chance doesn't have any cost: it will only bring benefits to your business.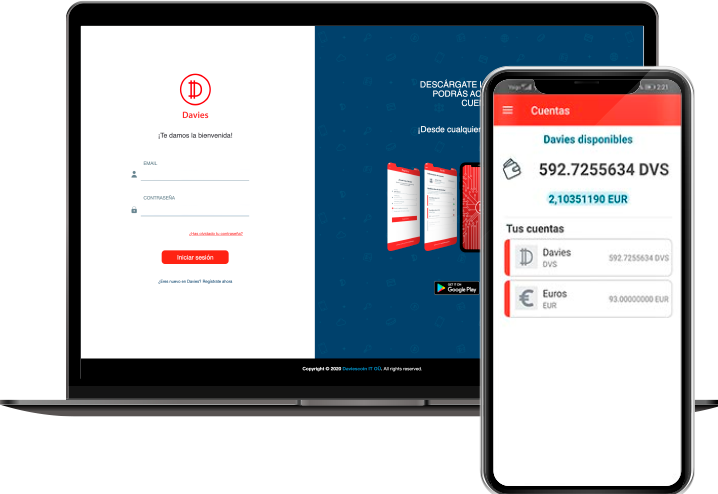 Manage all the payments in your business through our app in your mobile phone
With our app you can receive payments, regardless of the amount, in an easy, safe and traceable way.
Enable payments with
Davies
Settle payments with Davies in your physical store and make your sales more profitable. Davies is a safe and easy way to get payments in your business.