Advantages of international transfers using cryptocurrencies
Advantages of international transfers using cryptocurrencies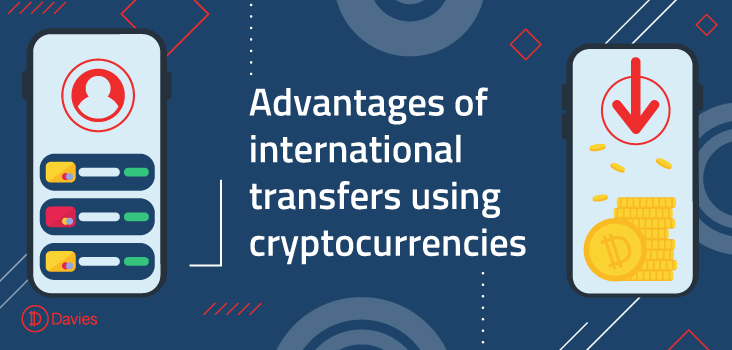 Probably at any point your company had to do an international money transfer. In business, many procedures justifying this kind of operations often happen.
For example, maybe you have to pay bills to providers located in a different country. Or you wish to enter a foreign market where there are taxes and fees to be paid. Or perhaps you already are working in many countries and you need to move funds between your branches.
In any of these cases you need a fast and reliable system to perform such a delicate task with adequate guarantees. Today we'd like to introduce probably the best technological solution currently available to face this problem: cryptocurrencies.
Do you want to know how digital currencies can help you in your international transfers? Keep reading! We'll explain it thoroughly in the next lines.
What do you need when doing international money transfers?
Whatever your reason to send money from one country to another is, you're dealing with company resources, so you need to be sure that the method you use gives an optimal performance.
These criteria can be useful as a reference when assessing the quality of an international transfer means:
Speed. You need your money to reach its destination as soon as possible so that the recipient can use it immediately, without losing any time that, in the business world, can be precious.
Costs. You hope the transfer from one country to another won't make you spend an excessive amount that could even affect your company's finances.
Ease. You want the process to be so easy to fulfil that you can do it yourself, without having neither to turn to managers or assistants nor to read instruction manuals.
Lack of intermediaries. You expect as few people as possible to get involved in the affair, mainly to prevent unnecessary delays and unexpected overruns due to any commission agent who doesn't add any value.
Safety. You need to be totally sure that the money actually reaches its destination and doesn't get lost midway. And, should there be any problem, you want to keep evidence to file a complaint.
No fixed hours. Probably the recipient of your money is on the other side of the world, in a different time zone. When you do the transfer, you don't want neither them or you to manage these procedures at inconvenient times for any of you.
No need to travel. You are already busy enough, with better things to do than going to any office, maybe in the other side of your town and opening only on certain hours.
Most common methods so far don't solve all these problems at the same time. There will always be at least one of these issues causing trouble.
Until now. Because international transfers using cryptocurrencies such as Davies have proven to be the best method for this task, as well as for many others. Let us explain why.
What are cryptocurrencies and how do they work?
For a better understanding of the advantages cryptocurrencies can provide in international transfers, we must know the principles in which they're based. To sum up, cryptocurrencies are totally virtual currencies, working exclusively on the Internet, without any physical support.
Unlike fiat money, that is, coins and notes we handle in our daily life, cryptocurrencies are decentralized. They don't depend on any central bank or any other financial entity to state their value. Instead, it's quoted only depending on supply and demand from their users.
A main feature of cryptocurrencies is that they work over a blockchain system. Broadly speaking, all operations performed with the currency are logged and stored in a block within a chain, linked to the previous and the following ones. This means it's practically impossible to modify or delete it, because that would imply changing also the others to which it is linked, and so on.
How do cryptocurrencies ease international transfers?
Considering cryptocurrency features we've just checked, you can deduce they're a great tool when doing international money transfers. Here are the reasons:
They're extremely fast. As they're totally digitalized and don't depend on any physical support, transactions are completed electronically through the Internet. This means there are no hours, days or even weeks delays when sending money, like it happens using other means. In just a few seconds money will reach its destination.
Costs are very low. Being an electronic operation without the need of physical support nor special premises, international transfers with cryptocurrencies will make your company incur on minimal spending, way lower than with any other alternative.
Easy procedure. It can be done in only a few steps through either any web browser or apps for both Android or iOS devices, which are very intuitive and simple to use.
You always keep control. No intermediaries are required for an international transfer with cryptocurrencies. You can do it yourself. Therefore, you'll save in fees and you'll always know exactly where is your money.
Your money is safe. Blockchain system is so solid that makes cryptocurrencies scam-proof. Also, since all operations are logged without the possibility of deleting them, any detail can be tracked should you need any proof.
At any time. Everything is done through the Internet, which is open 24/7. Forget about waiting for the office to open or for daytime in the destination country.
No travelling. You can manage operations from anywhere with Internet connection, that is, anywhere with signal for your smartphone. You won't need to go to the agency anymore!

All these advantages make international transfers with cryptocurrencies, such as Daviescoin, the most reliable method by far. But, besides, electronic currencies have many other usage possibilities for your company. Keep reading our blog to know them and learn how to take advantage of them!