What is flexible remuneration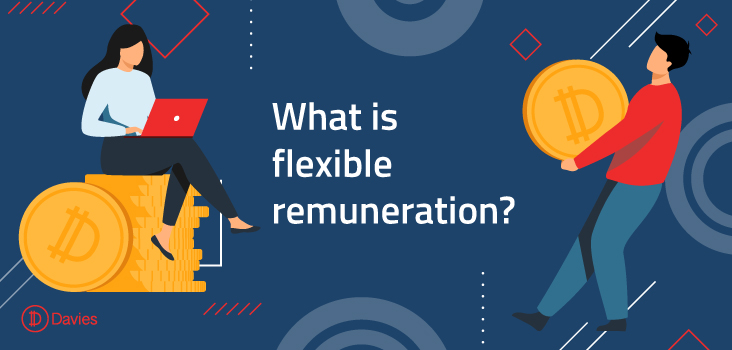 You're probably used to the common formula that has been repeated since the early times when working was invented. You accomplish the task your boss tells you to do, spend in your workplace as many hours as your contract states, and, in exchange for that, at the end of the month you get a paycheck with the amount of money you both had agreed.
That's how it has always been, that's how almost everybody believes a working relationship between employers and employees must be. But what if we told you there are more options? What if we said there are other salary paying manners beyond depositing money in a bank account?
An increasing number of companies are betting for a disruptive concept in this sense: flexible remuneration. Have you ever heard about this system? Do you know what is it about, how to start it if you manage a company, and how can you take profit of it if you're a worker? We'll explain in the next few lines!
The concept of flexible remuneration
Actually, the idea of flexible remuneration is quite simple and easy to explain. To sum up, it's about paying the employee part of its salary not through the paycheck, but offering other kind of compensations.
What compensations are we talking about? Whatever the company agrees with the workers, with a very wide range of options. Some examples of possible bonus are:
Food (restaurant services)
Public transport
Kindergarten for their children
Private health insurance
Learning: courses, languages, etc.
You may think that this system looks pretty much similar to "payments in kind" that have been used for a long time, that is, giving to the employee products or services rather than cash. There's a key difference: in flexible remuneration only part of the salary is paid in kind, while the rest goes through the paycheck.
This way, employees can enjoy the advantages of both systems. And it can be negotiated down to the smallest detail which part of the salary gets paid in each modality, depending on what is more convenient to each one.
Flexible remuneration should also not be confused with social benefits companies sometimes provide assuming their full cost. These aren't included in the salary, are costless for the worker, and companies give them either voluntarily, as a way to keep the staff motivated, or as part of collective bargaining and union agreements.
In Spain, there is a legal limit to which part of the salary can be paid via flexible remuneration. Generally speaking, up to 30% can be disbursed like this and become exempt of Personal Income Tax (PIT). Technically, a bigger share could be established, but there would be taxes to pay.
All employees, regardless of their position, are due to enter a flexible remuneration program. The system is completely voluntary and has to be specifically agreed with the company. The worker chooses what's worth it for him depending on the services the company can offer.
Advantages of flexible remuneration for workers and for companies
As explained by Sodexo, a company specialized on the delivery of life quality services, flexible remuneration offers many benefits for both parts in a labour relationship. These are some of the advantages for employees:
Free choice. A worker can decide which part of the salary does he want to get in this form, depending on his needs, so that he has the chance to organize his finances in such a way that his purchase power improves.
Voluntariness. Workers aren't forced to join a flexible remuneration plan. Each one chooses up to what extent it's convenient or not.
Double savings. As up to 30% of the salary moved to flexible remuneration doesn't pay PIT, it gets deduced from the gross salary facing taxes in the annual declaration, so the taxable base is lower. Besides, this lowering usually also means going into a lower tranche in the payment of the tax, causing yet further saving.
More life quality. Basic necessity services for the workers are automatically covered. Employees will feel that the company cares and appreciates them by offering these services.
Of course, it's also quite convenient for companies due to, among others, these facts:
Employees' purchase power can be improved without needing to spend more in salaries. As some services the employee previously had to deal with get covered now, but not having to pay PIT up to 30%, in practice it works like a wage rise… without any further economic effort for the company.
Attracts and keeps talent. The extra services provided to employees can become helpful in order to make the most qualified and priced workers decide to stay.
Helps the reconciliation of work and family life. Offered services such as kindergarten or transport let workers have more free time in their daily life. This contributes to create a better work environment.
More motivated employees. Having more advantages, workers will be more committed to the company. This will impact not only in more happiness for the employees themselves, but also in less work absenteeism and more productivity.
Better corporate image. A company that treats well its staff tends to be better valued by its potential customers.
How to use cryptocurrencies to achieve flexible remuneration
Cryptocurrencies such as Davies are an excellent option to apply the flexible remuneration system in your company. If you pay wages using cryptocoins, workers will be able to take advantage of all the benefits this groundbreaking technology can provide to their home economy.
If the company delivers to its staff VISA cards that can be topped up with cryptocoins, either it and the employees will have many perks:
Tax savings. Both of them will pay less in PIT.
Anonymous corporate card. It keeps linked to the company, which reloads it automatically, so the user can pay with it as freely as if it were cash.
Available in millions of shops worldwide. Wherever VISA cards are admitted, you can pay with your cryptocoins!
Ease of use. Everything gets managed comfortably from any place and at any time through a website or a mobile app.
Would you like to get more details about how to implement cryptocurrencies in flexible remuneration at your company? Ask us all your doubts! We'll be happy to solve them for you.